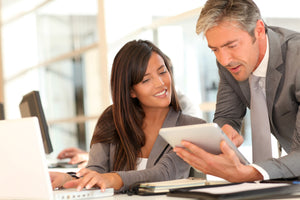 Business Accelerator
Regular price
Sale price
CHF. 9,000.00
---
This program is designed for entrepreneurs and top-executives who want to sharpen their business strategy and achieve rapid, exponential business growth.
In this process, we enable our coaching clients to swiftly accelerate and multiply their influence, impact, income and profit in a way that is safe, inspiring and fun.
We pragmatically assist our clients to improve their top and bottom line business results by:
Helping them to become absolutely precise in defining their business strategy, their ideal client and market niche, as well as the specific value they create.
Enabling them to sharpen their product, solution or service offerings, making them irresistible for their ideal clients.
Showing them precisely how to strengthen their brand presence, reputation, influence and impact in their specific market niche.
Helping them to grow their client-base and their sales revenue quickly and sustainably
Teaching them how to easily and effectively create scalable business processes and systems, with which they can grow quickly, safely and profitably
Enabling them to access, unlock and fully leverage all of the resources they require, in order to succeed
This Business Accelerator Coaching Program includes six 90 minute coaching sessions, either on-site in Zurich, Switzerland - or by means of convenient phone-calls / Zoom meetings spread over a period of up to 6 months.
In addition, we provide our program participants with a weekly individual catch-up session by phone or e-mail to answer questions, to provide support and advice, as well as to increase the level of motivation and accountability.
Furthermore, the program includes a personal Birkman Assessment, with which we can help you to identify potential blind spot areas or self-sabotage programs that may have been preventing you from achieving your desired level of success in your business.
And finally, we also include a Business Success Scan, with which you can quickly identify the key areas you need to focus on, in order to achieve exponential business growth quickly.
Once you have bought your Business Accelerator Coaching Program through our web-shop, we will contact you to confirm the timing, location and pre-work for the coaching sessions!