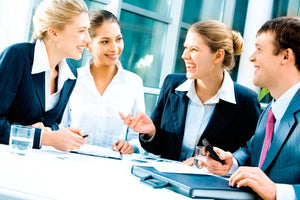 Business Storytelling
Regular price
Sale price
$34,980.00
---
If you are a business owner, business development specialist or sales executive, you can quickly accelerate and increase your sales revenue by using relevant, compelling business stories.

Business storytelling has become very fashionable recently, but because most business people are not naturally gifted storytellers, their attempts at using this technique often produce sub-par results.
If you would like to learn how to successfully increase the volume and the profitability of your sales, this workshop will show you step-by-step how to proceed.

As a result of your investment, you will receive a storyboard, tools and coaching which will help you to apply the technique with precision and create the best possible effect.
Even better, you can use the stories and content we develop with you in your digital marketing through posts in Facebook, Instagram, Twitter and Linkedin, or in short clips in your website, your blog, in Youtube and Apple TV, as well as in your traditional print, radio and TV advertisement campaigns.

If you like, we can also provide your sales-staff with high-impact, tailored training in the use of the stories we develop together in their daily sales-calls and client interactions.
The price for this business storytelling workshop includes:

an in-depth 2-hour briefing sessions prior to the actual event
an intensive 8-hour on-site workshop, tailored to your specific situation
the production of a storyboard and story-telling tools for your salesforce
The following items will be invoiced separately, based on the actual costs incurred:

Possible development, design and production of additional tailored materials after the seminar
Travel, accommodation and meal expenses
Rental costs for meeting rooms and infrastructure
VAT, plus other possible taxes and duties
Payment of these additional cost-items is due within 10 days after receipt of our itemized bill.