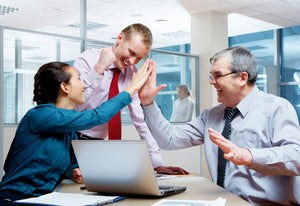 Expert Deal Negotiation Coaching
Regular price
Sale price
$11,253.00
---
If you are involved in a really important B2B sales negotiation that you need to conclude quickly and successfully, this coaching program is for you.

In this exclusive offer, our international business negotiation expert
Andreas Buergi
will personally coach your sales team throughout the process of preparing, rehearsing and debriefing the real-life B2B sales negotiation you are involved in.
Ideally, the deal you will be working on in this coaching program should be worth at least the equivalent of 1 million CHF and the group size per program is strictly limited to 6 participants.
We only accept 2 such programs per month, as the sessions tend to be very intense and the preparation work involved is usually quite substantial.
Furthermore, we do absolutely  NOT accept negotiation coaching assignments for B2B situations involving e-auctions.
The package includes:

Three intensive 90 minute coaching-sessions with Andreas Buergi as your international negotiation expert via phone / Zoom, usually spread over a 2 - 4 week period
An online intercultural & conflict-style assessment, including a detailed debriefing with the team during our sessions (or individually, in 1:1 sessions if required).
Two to three e-mail interactions with Andreas per week, concerning your negotiation, over a 4 week period.
Experience first-hand how Andreas assists sales executives and key account managers in negotiating better business deals to
create more profitable breakthrough results faster
, by coaching them behind the scenes throughout the process.
Allow yourself to be positively surprised!
We provide a full money-back guarantee on this program, if you
diligently applied all of the techniques we taught you during our sessions
and you did not generate at least 10 x the amount of our fees in additional revenue, profit, other measurable value, or a combination of these metrics
within a period of 12 calendar months after the end of the program
Once you have bought your Expert Deal Negotiation Coaching program through our web-shop, we will contact you to confirm the timing and pre-work for the coaching sessions!