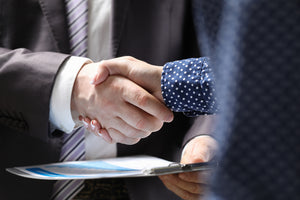 Elegant Negotiation Masterclass
Regular price
Sale price
$11,253.00
---
Learn how to negotiate more successfully and close better, larger deals with the techniques taught in this high-impact program!
In fact, our Elegant Negotiation System will show you how to:
Double the value of your B2B sales deals

Cut the time required to close them by up to 50%
And reduce the risk of failure in your negotiations by up to 90%
The participants in this program are usually responsible for negotiating and closing major, multi-million USD / EURO deals.

Our Elegant Negotiation Masterclass is an intensive, interactive six week program in which we teach you the most cutting-edge negotiation techniques, as well as planning and preparing for your real-life negotiations, enabling you to close better deals faster.
We only conduct this Masterclass 4 times per year, with a maximum of 10 participants per group. The masterclass consists of 6 live Zoom sessions of 90 minutes each (one per week), as well as an exclusive WhatsApp group, in which participants can post their questions, insights and recommendations in a community setting with like-minded professionals.
For those participants who commit to work on preparing a strategy for a real-life negotiation based on the techniques taught in this masterclass, one of our international negotiation experts will provide additional, deal-specific coaching, feedback and tutoring on a weekly basis by e-mail (naturally, a specific NDA will be signed where required).

The next program is due to start on Monday November 6, 2023 at 5 00 pm CET (Zurich, Switzerland).


The 6 sessions are structured as follows:


Week 1: Setting Yourself Up To Win!

Get yourself into the pole-position before the negotiation starts with a winning sales mindset
Leapfrog your competition by planning and preparing your negotiations quickly and effectively with the most cutting-edge strategies and techniques

Shape, control and direct your negotiation towards a successful close from the get-go


Week 2: Engaging In Deep Dialogue

Leverage advanced priming techniques to influence the decision-making process of the people you negotiate with
Differentiate yourself from your competition by helping your target clients to see what they normally can't: their subconscious needs, priorities, motives and business drivers
Instead of trying to convince your clients to buy - learn how to get them to sell your products, services and solutions to themselves!


Week 3: Dealing With Power Play Tactics Effectively

Learn to apply Negotiation Aikido by dealing effectively with the power-play tactics used by today's corporate buyers, so that their tricks work for you instead of against you

Know how to stay calm and focused when dealing with price-pressure
Learn how to implement price-increases quickly and effectively


Week 4: Increasing Your Influence With The Power Of Reciprocity

Raise your level of influence rapidly by leveraging the psychology of persuasion
Learn how to design, structure and leverage psychologically attractive reciprocal trades
Sharpen your power of observation by knowing how to read and interpret the nonverbal cues and body-language of the people you negotiate with


Week 5: Dealing With Conflict Creatively

Know how to manage and orchestrate the level of cognitive tension creatively in your negotiations

Accelerate and shorten your negotiation process with the power of the Emotional Impact Map
Leverage conflict constructively in order to craft and close better deals - faster!


Week 6: Developing A Winning Mindset

Learn how to effectively manage your personal state and your mindset with advanced mental training techniques
Increase your sales revenue and profit exponentially with the power of focused intention

Improve your win-rate by using the most effective deal-closing techniques
Participants in our
Elegant Negotiation Masterclass
typically include Global Sales Directors, B2B sales executives and key account managers. As we cover many international and intercultural negotiation scenarios in this masterclass, clients for this program tend to work in multinationals blue chip corporations.

Our masterclass provides participants with the essential conceptual framework they require to:
accelerate and increase their sales revenue and profit
negotiate and close better business deals - faster!
actively manage and reduce the risk of failure in their negotiations
Each session includes a 60 minute lecture, combined with a 30 minute Q & A opportunity to discuss the concepts and their practical application to real-life situations

The focus of the masterclass is to teach advanced sales negotiation techniques in a very practical, hands-on manner, enabling the participants to transfer the insights they gain directly in to their everyday sales environment.